About Muamp
Any questions, comments or custom made ear-speaker enquiries, email david@muamp.com
Muamp started with an aim to make a pair of electrostatic ear-speakers as good as the best you could buy, predominantly the Stax SR-009, as a personal hobby/quest. People who have listened and auditioned Muamp ESHS can confirm that my aim has been achieved.
Muamp makes ear-speakers for enthusiasts on a custom made high end basis. Muamp will make custom hand made electrostatic headphones for individuals, so they can also enjoy the pleasures of listening to music with the best audio reproduction that is possible.
If you wish to audition a Muamp ESHS, you are welcome to do so, even to compare them back to back with the SR-009 or any other headphone. To find out how, email david@muamp.com.
Muamp History and Development
Development of Muamp from the early days
Electrostatic ear speaker events
Muamp External Links
Muamp Customer Profile on Rapid
Muamp Case Study by Vectric at the Flagship Maker Faire, San Mateo, USA "Making money from madness"
Muamp on HiFi Wigwam - Headphone News
Associated Links
Rapid Electronics are a major supplier of MUAMP parts
Vectric Cut2D is used to design and produce CNC G-code for MUAMP construction
Highend headphones have a good selection of electrostatic energisers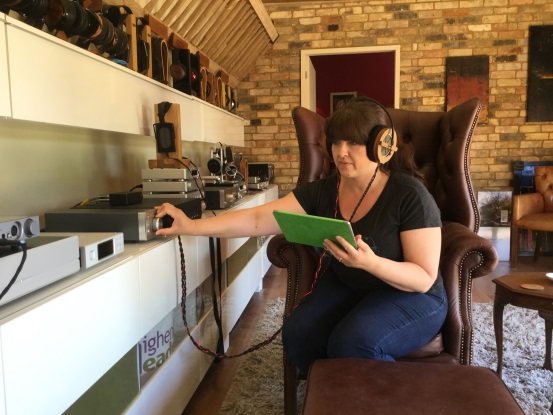 Photo taken at highend headphones showroom. Wendy is listening to Muamp#4.
We visited highend headphones so that a Muamp ESHS headphone user could audition various Stax energisers.
Photo published with kind permission of Paul at highend headphones.
Muamp (humorous) sales quotes
"Muamp, probably the best headphones in the world."
"Muamp#2, the second best headphone in the world."
Muamp Promotional Images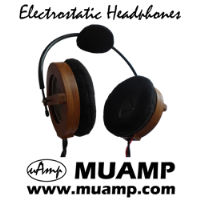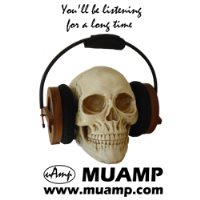 This website is frequently being changed, improved and modified to publish the latest updates.